People who have experienced homelessness help us see the bigger picture as giant mural unveiled in Coventry
A three-storey mural designed by people who have experienced homelessness, has been painted on Coventry Central police station.
The 50ft tall and 30ft wide piece of art was painted by international street artist, Dawid Paradowski, also known as Woskerski. Called See the Bigger Picture, it is the largest mural he has ever created and is based on the experiences of homeless people in the city.
It represents everything homeless people needed when they had nowhere to call their own and the hope that kept them going through the hard times.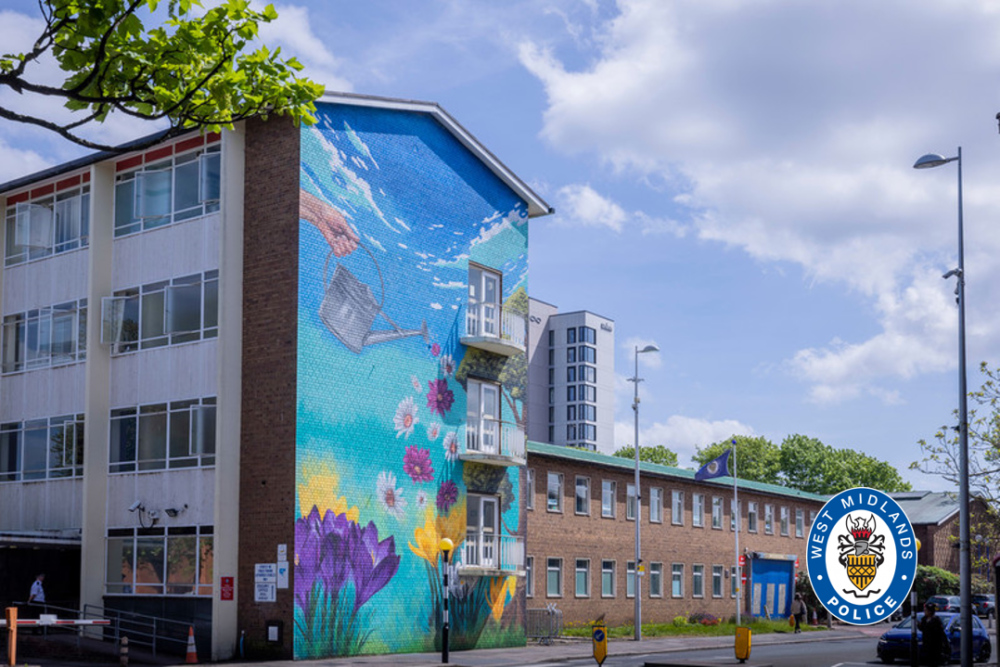 Speaking about the project, Dawid said: "Being able to paint a police station is very meaningful. It shows that things have changed.
"The idea is growth and nurture. The flowers represent the growth and the place you can call home it's the stability in life.
"The watering can and the water pouring down is the nurture. It represents the care that is being provided by the local community and by the police themselves who are learning from their experiences and learning how to approach homeless people to help them out."
The mural was paid for by the Police and Crime Commissioner for the West Midlands with money confiscated from criminals by the courts and invested back into communities affected by their crimes.
The mural is the highlight of a series of workshops we held with the charity Crisis, to develop our understanding of homelessness.
We examined the issues people face, how being homeless impacts on them and what support they need. We also learned about the services the city offers and spoke about our role in keeping them safe.
We also heard some hard truths about how we sometimes treat homeless people by not knowing what services are available and confusing the issues of homelessness, rough sleeping and begging.
Hayley Harman was one of the people with experience of homelessness in Coventry. She said: "I've been homeless three times for three separate reasons.
"Now I'm sitting in a room and my opinions are being listened to by the police. They want to use that lived experience to create real social change and I think that in time, that will build trust between the homeless community and the police."
Council data shows that there are eight people sleeping rough in the city centre. Each are offered help – including accommodation – every day by council staff and charities. The number of homeless people, people without a permanent home, is much higher.
Sergeant Julie Harrison, from Coventry Police, said: "Coventry's status as UK City of Culture has presented us with new opportunities to use art and culture to talk to different people about tough topics.
"We're experts in policing, not homelessness. Fortunately, Crisis are and that's who we've been working with on this.
"The sessions we've created are helping develop our understanding of what's driving homelessness in the city, what support is available to people before they are made homeless and what services are in place for people in need. At the same time, we're explaining our police processes and the law, and hearing first-hand about the quality of service we provide them with.
"People – including our officers – have been very honest and it's sometimes hard to hear. We've had one PC share how he was almost made homeless after falling behind with the rent. People have also shared how their mental health resulted in them being evicted or how their desperation when sleeping rough led them to beg, shoplift, become sex workers or use drugs, which then led to worse mental health and more serious crimes. It's a vicious circle and one that can be hard to break out of.
"Even when people have been housed, people who've been coming to the session describe how hard it is be housed alone when you've had constant companionship on the street and how going into town is hard too when people are asking you to hang out with them and restart old habits. This was a real insight. I'm not sure we realise how hard starting over again is. It's certainly made me think about how we interact with people who are homeless. It's important to see the person first not the problem."
The discussions are also helping to shape council policy and shape local support services.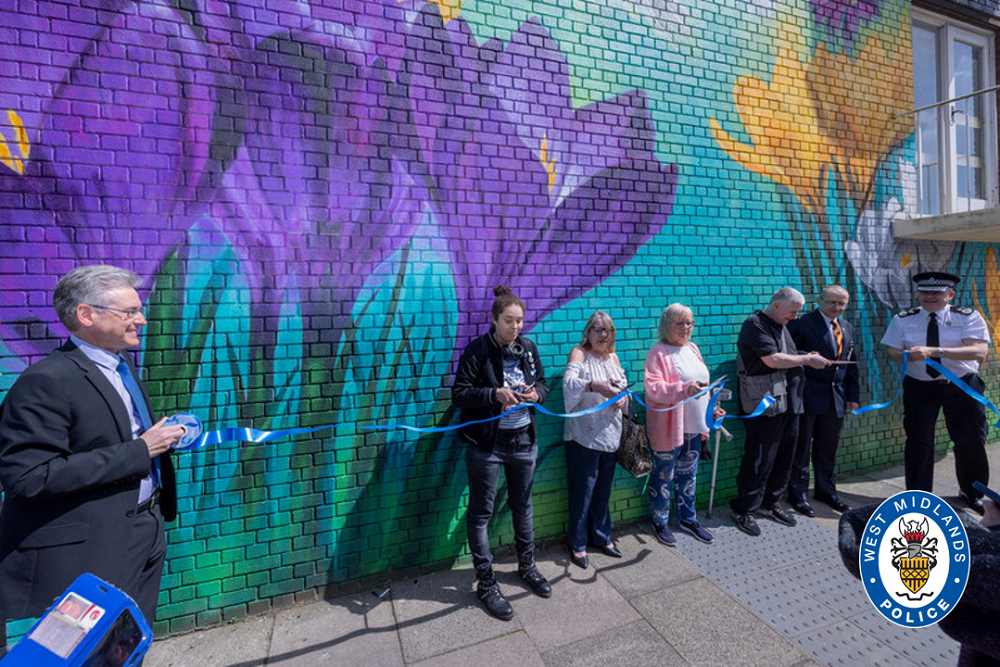 At the unveiling of the mural, Councillor David Welsh, the council's lead for Housing and Communities said: "I want to thank the police for the work they've done because with those barriers down, we're having conversations now that we've not had before. It shows another side to the police that they are there to support us as well as protect us."
Police and Crime Commissioner Simon Foster paid for the project. He said: "I am committed to doing whatever I can to end homelessness in the region.
"When I heard about this project and what it's aims were, I was clear that we would fund the initiative with cash confiscated from criminals by the courts.
"The mural, which is based on the ideas of the city's homeless communities, is stunning and is a gift to the city for everyone to enjoy. It serves as a reminder of the need to do whatever it takes to prevent and tackle homelessness."
The project was also facilitated by Coventry's Business Improvement District, businesses in the city who pay to make the city a better place to visit.
See the Bigger Picture is one of many new murals being painted in the city as part of Coventry UK City of Culture's In Paint We Trust.
In Paint We Trust is not just about decorative works, it also features opportunities to tell the stories that are important to the city through art in our everyday spaces. To spark conversation and allow for communities to get creative with workshop days.
In Paint We Trust will also offer opportunities for young people, local artists and facilitators to be part of the experience with managed legal walls, workshops and opportunities to paint in the programme.
Adrian Woolford, Operations Manager at Coventry BID, said: "It's amazing to see the latest In Paint We Trust project unveiled in such a prominent place, and with such an important message.
"As a joint delivery partner for In Paint We Trust, Coventry BID has been privileged to work with a range of artists, organisations and businesses to create wonderful installations across the city. We've been delighted to be a part of such an important project for Coventry, and one whose legacy will last for years to come."
Chief Constable Sir David Thompson said: "We often think about homelessness as begging which is something that policing has to deal with. But what this project is all about is that homelessness is much wider.
"There are many people crashing on sofas and sleeping in other people's houses, and they are some of the most vulnerable people we deal with.
"A project like this gets us to think about what that broader picture is about homelessness and how we respond to it as a police service."
If you are homeless and need help, speak to your council.
To get a person who is sleeping rough help or to donate to local charities which support them, visit: changeintoaction.org.uk