Coventry Food Festival 2019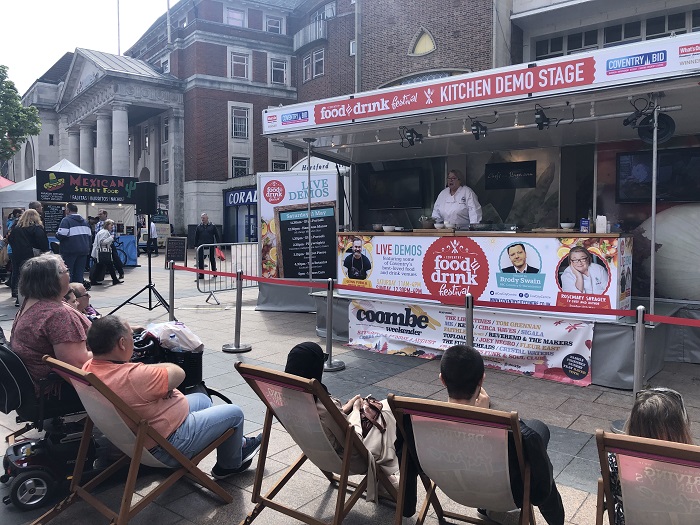 The weekend of the 11th & 12th May saw the return of the award-winning Food & Drink Festival in Coventry City Centre. Footfall for the weekend saw more than 140,000 visitors from Friday through to Sunday which was a more than 17% increase year-on-year. Broadgate and Upper Precinct were filled with food and drink purveyors from Friday 10th for the Continental Market before the Food and Drink Festival started on Saturday 11th.
There was something for everyone from cheese to chutney, scotch eggs to brownies. There were food choices from around the world including Indian, Mexican, Greek, German, Chinese, and many more. And let's not forget the drinks offer available with beers, ales, wine, gin, lemonades, slush and more.
Igers Coventry helped to document the weekend… you can view their photos here
The cookery demonstration stage has a packed line-up with celebrity chefs and local chefs working from the same stage. Saturday saw Michelin Star chef Glynn Purnell preparing masala fish dishes and Sunday Rosemary Shrager prepared souffles and lamb dishes. Visitors also enjoyed local chef Sophie Hyam cooking with locally sourced ingredients, hearty food demonstrations from the chef at Playwrights, wine tasting with the team from Bistro Pierre and the event closed with a Cocktail and flair master class from the team at Samoan Joes.
Alongside the cookery stage there was live music across the weekend from local artists Matt Cattell, Gosp-ability choir, Steve Berry and Forte Choir opening the day on the BBC stage. As the day went on the stage saw BBC Introducing artists Joe Dolman, AutoPilot, Levi Washington, The Adelaides and Izzie Derry entertaining the crowds. As the evening drew in the Coombe Weekender DJ's rounded each day off.
Sunday 12th saw the Coventry Dining Club return to the Cathedral Ruins thanks to the team at Digbeth Dining Club. This is the first year both events have worked hand in hand and complemented each other brilliantly.
Alongside the Food and Drink Festival, this year saw the launch of the Coventry Ale Trail and Coventry Cocktail Trail. The Ale Trail started at Twisted Barrell in FarGo Village where participants collected their Ale Trail Glass before working their way through the city centre taking in the remaining seven venues. The Cocktail Trail saw bars like the Botanist, Bayley Lane and The Yard creating their own Coventry themed cocktails for patrons to enjoy. Look out for more information about these across the rest of the year as further venues will be added.
It really was a weekend to remember, read here some reviews from our Facebook page.
"Amazing day out, fantastic food selection, nice cold drinks. I found some amazing chutney on this year festival yummy. This year it was 100% fun and sun"

Marek Jani
"Excellent selection of food and drink stalls set amongst the bustle of the city centre"

Ian Boddison
"Excellent food, good stalls, great music and shows"

Martin