Coventry BID team up with You Smart Thing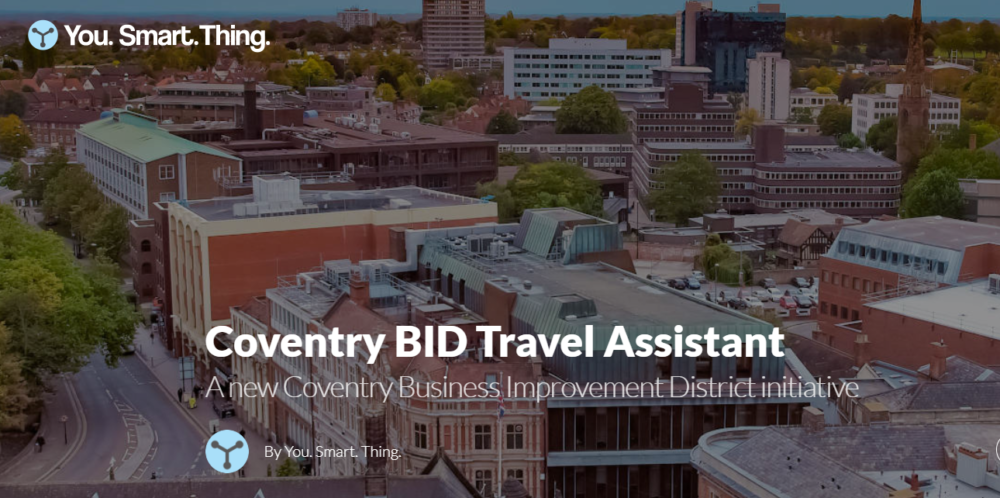 In readiness for the reopening of the region's business premises, we are delighted to inform you of an exciting new initiative from Coventry BID and 'You. Smart. Thing.', to help boost recovery of the regional economy by promoting 'Covid-conscious' travel.
Visitors to BID businesses can now receive personalised door-to-door journey plans into Coventry, prompting active and sustainable travel choices.
As well as ensuring people can find the least crowded, best value public transport services, the new Travel Assistant will also identify the best way to move between key locations in the city. Even better, personalised journey plans are FREE for visitors to use.
Part-funded by the Coventry Innovation Programme, the 'You. Smart. Thing.' Travel Assistant platform powers the BID's bespoke journey planning system, and, through us, it is also FREE for businesses of all types to use.
The Travel Assistant service is as easy to add to your website as it is to embed a YouTube video, enabling your customers to plan a safe, secure journey to your premises on their computer or smartphone with no app download required.
As soon as you are able to open your customers can be enjoying enhanced travel to your business, with less disruption and delay, and making transport choices that are better for the environment. To see how the Travel Assistant works you can try it out on the Coventry City Centre website and on Visit Coventry.
Step-by-step guidance on how to easily add free-to-use, personalised journey planning to your website is available by clicking the link.
(Please note, your email address is only required for us to track the adoption of the service. Additional support with embedding the Travel Assistant is available from CovBIDsupport@yousmartthing.com)