Christmas 2019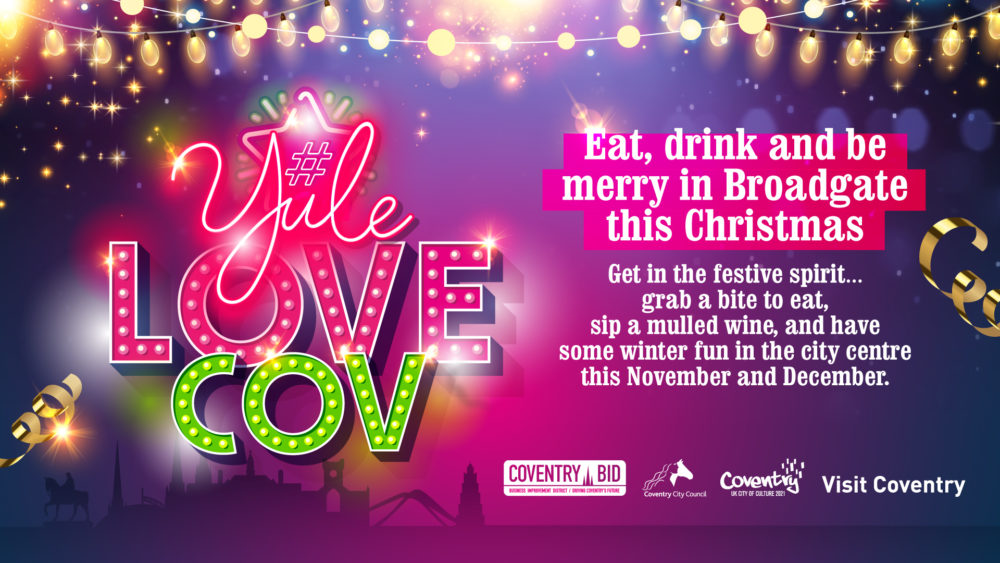 Coventry Business Improvement District (BID) led the way in the festive season of 2019 with a host of special Christmas activities for their Yule Love Cov campaign.
1. Christmas Lights Switch On: 20th November
Always a highlight of the festive season and a sign that Santa is well and truly on his way! The BID worked with Coventry City Council, to produce and organise the evening, which took a different approach to the finale and rather than have a headline act chose to work with …. to pixel map a Christmas story across the building of Broadgate. The event saw over 8,000 people fill the square to witness the spectacle and also welcome in late night shopping and free car parking after 3pm on Wednesdays.
2. 'Yule Love Food': 21st-24th November
As the title suggests, this weekend centred around food and drink, incorporating stalls selling all kinds of festive fare, tempting treats and gorgeous gifts.
There was also a month long tasty food and drink offering running from 23rd November through until 22nd December in Broadgate, which featured a cosy cabin for shoppers to rest their weary feet and enjoy some festive food in comfort!
Local businesses were also given the opportunity to showcase their wares within the Christmas cabin located alongside the food traders. Sgt Bilko Vintage Emporium from FarGo was one such business who were selling sci-fi Christmas gift ideas and were grateful to be able to work in the city centre alongside their FarGo unit.
3. 'Yule Love Shopping': 30th November-1st December
Those looking to get all their Christmas gifts purchased early were seen heading into Coventry to pick up their bargains on Black Friday.
Visitors were also in with a chance of winning a gift with a 'random act of kindness' from Coventry BID. Gifts were kindly donated by BID businesses and saw people receive free coffees from Esquires to Rugby tickets with The Wasps.
4 & 5. 'Yule Love Music': 6th-8th & 20th-22nd December
With live performances and DJ sets organised by Sandra Godley from BBC Radio Coventry & Warwickshire across the weekends. We also welcomed The Yard team onto the stage for a Wednesday DJ set which was well received and complemented the festive food stalls brilliantly.
6. 'Yule Love Family Fun': 14th & 15th December
The highlight of this weekend incorporated a lantern competition in which 10 local primary schools took part. Finalists were invited to present their lanterns to the judges, which included IKEA management, Cllr Hetherton and Free Radio producers, on stage with the winners being announced on the Sunday and all the lantern designs were then displayed in West Orchards Shopping Centre right through the festive period.
Coventry BID also brought 24 Christmas trees to the city centre. These were kindly sponsored by The Jade Studio, EDG Property, Apps Living and Players Entertainment.