The Show Windows project, delivered by Coventry Business Improvement District Ltd, has reached the 6 months mark and as part of this latest installations have incorporated the Government Art Collection.
Coventry Business Improvement District have revealed the artworks from the Government Art Collection that feature across the shop windows in Coventry City Arcade for The Show Windows: Reflections as part of Coventry UK City of Culture 2021.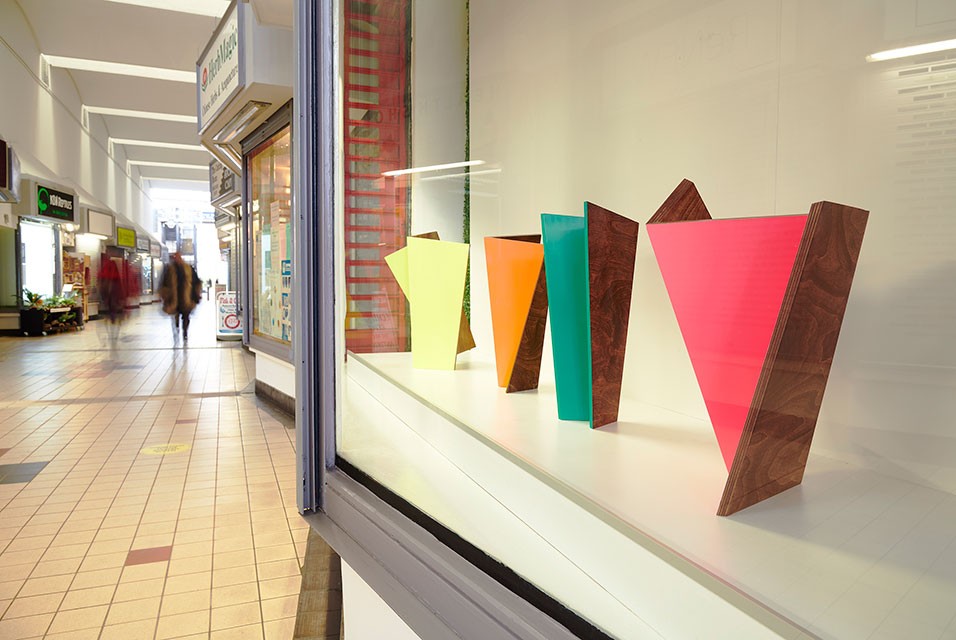 Launched in November, the exhibition features artworks by artists including Hurvin Anderson, Rana Begum, Mahtab Hussain, Mohammed Sami, Julian Trevelyan, Evelyn Williams and Christine Wilkinson. The chosen selection from the Government Art Collection spans the mediums of photography, etching, paint and drawing. The Show Windows is a flagship public art programme co-produced by Coventry Business Improvement District with Coventry City of Culture Trust, which sees artists, architects and designers exhibiting in shop windows around the city centre.
The Show Windows: Reflections is supported by Historic England and celebrates the post-war architecture of Coventry City Centre, working with local communities to select artworks and transform Coventry City Arcade into a public museum. Following the devastation of the Coventry Blitz, a new vision for the city was set out according to a master plan by the City Architect, Donald Gibson. The redevelopment of Coventry city centre by Gibson and his successors provided an intensely urban and civilised centre, embodying new planning principles. Post-war Coventry was hugely influential, and Gibson's ideas helped to shape the rebuilding of other city centres, the post-war new towns and developments in Europe. Retail was at the heart of this vision, which includes the city's acclaimed pedestrianised precincts, the Grade II listed Coventry Retail Market, and Coventry City Arcade.
Community interest company Quiet Down There has worked with Carriers of Hope, a local charity that provides support for refugees, migrants and asylum seekers in the Coventry area, to curate the exhibition. Three Coventry-based socially-engaged artists – Jo Gane, Frankie Robson and Lorsen Camps – have also been commissioned to create new pieces that respond and are inspired by the objects from the public collections.
After the Government Art Collection, exhibitions featuring work from the British Museum and Crafts Council will take place in the coming months. The Show Windows is curated by Charlie Levine and for Reflections she has worked with Indira Lakshmi and Rahma Mohamed.
For full press release please click here.