Coventry's Telegraph Hotel has experienced a record month as it benefitted from a booming visitor and night-time economy in the city.
The city centre premium hotel opened its doors in 2021 after £20 million investment and has smashed its record month when it comes to sales and occupancy.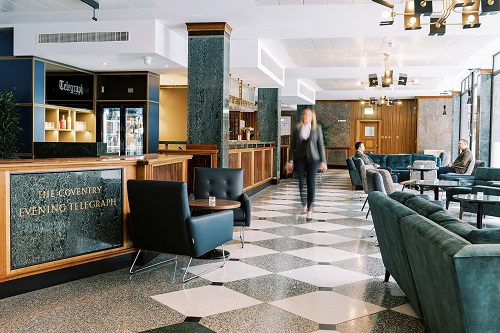 In July room sales at the venue were up 14 per cent on the previous year and the hotel room rate was five per cent stronger.
The four-star hotel features 88 bedrooms, an all-day bar and restaurant called Forme & Chase and a rooftop bar, Generators.
Amy Windsor has been General Manager at Telegraph Hotel since it opened and says that the hotel has benefitted significantly from the growth of the visitor economy and an improving night-time economy.
"Everyone benefits when there are events going on in the city centre, from hotels and restaurants, to music venues and theatres, and that can be seen in our record figures for July," said Amy.
"We had our best ever takings in the month, largely driven by events and activities taking place in the city centre. Graduation ceremonies for the universities also gave us a big boost and throughout that period we were at full occupancy.
"Our midweek trade has also seen growth, with people coming into the city to enjoy an evening's entertainment at venues such as the Belgrade Theatre and HMV Empire.
"We always recommend other venues for our guests to experience in the city and this collaborative working is making the city thrive.
"Our guests are always telling us that they are, in some ways, amazed about how much the city centre in Coventry has to offer. We have a great range of bars, restaurants and night-time venues for people to experience – whether that's for families, couples or groups of friends on a night out.
"The day time attractions are also bringing in tourists, in particular new attractions such as Charterhouse and St Mary's Guildhall alongside Coventry Cathedral and the museums.
"Having good quality hotels in the city centre is a vital part of the overall visitor attraction. We have had one guest stay with us seven times in the last two years to fully experience what the city can offer.
"Anything that brings more footfall to the city centre is fantastic news for all of the businesses based here."
Latest tourism figures show that tourism in Coventry has soared to record levels in recent years, with the value of the visitor economy reaching £750.86 million in 2022.
This includes a growth in overnight spend per visitor in the city to £225.74, which will bringing significant benefit to the hotel sector in the city. The figures were revealed in the latest STEAM report, which was commissioned by destination management organisation Destination Coventry.
Visit Coventry, part of Destination Coventry, has recently launched a new campaign in collaboration with venues across the city, to support and promote Coventry's offer to evening visitors.
Paul Jones, Managing Director of Destination Coventry, said: "It's fantastic to see a business, which is a key player in our visitor economy, thriving.
"There is so much to be positive about in Coventry city centre at the moment, with venues and businesses hosting some great events to bring people into the city.
"The Telegraph is one of the jewels of our hospitality sector and it is great to see it benefitting from the strong offer for both daytime and evening visitors."