Coventry's cultural successes showcased to business leaders at British BIDs Development Day
More than 60 business leaders from across the country spent a day in Coventry learning about the city's projects and successes in an event hosted by Coventry BID.
The British BIDs' Professional Development Day was held at Coventry's Assembly Festival Garden and featured talks from some of the key figures behind cultural and business changes in the city over the past few years, including: Coventry BID Director Trish Willetts; Coventry 2021 Creative Director Chenine Bhathena, and representatives from the Historic Coventry Trust and Coventry University.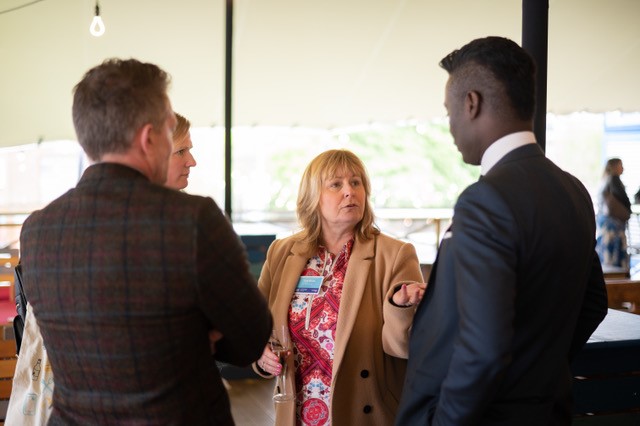 They were joined by directors and representatives from BIDs across the UK for an event designed to connect business leaders and explore how fellow business communities work to solve problems and create development in their own areas.
Backed by British BIDs, an organisation that focuses on supporting and developing Business Improvements Districts through the delivery of advice, training, products and services, the focus of the 2022 Professional Development Day was on BIDs, Culture and Communities – making Coventry the perfect city to host the event.
The series of morning talks looked at work that has been undertaken across the city to involve culture in its development, from Coventry City of Culture programmes including The Show Windows and In Paint We Trust, both delivered in partnership with Coventry BID, as well as work by the Historic Coventry Trust to improve key streets and to renovate and showcase some of the city's historic buildings.

Other subjects included planning potential and the impact of the government's Levelling Up Agenda on BIDs and cities.
After a networking lunch at the Assembly Garden's Treehouse venue, showcasing talent from local chefs Sophie Hyam and Miss Ellie's of Coventry, visitors were taken on a tour of the city centre to see some of the projects carried out over the last year, including the In Paint We Trust murals and art installations in city centre businesses as part of The Show Windows.
BID Director Trish Willetts, who is leaving Coventry BID to join the team at British BIDs, said: "It was wonderful to host the British BIDs Professional Development Day and showcase just how much we've achieved in Coventry – not only as a BID, but as a city as a whole. We firmly believe that culture isn't just an added extra, but is vital to building footfall and raising funding, creating a viable future for our city's business community.
"Once upon a time 'Sent to Coventry' was something negative, but we hope that our fellow BID teams and directors from across the country felt that they had a great day visiting our city, and not only enjoyed networking with fellow business leaders, but also gained some ideas from hearing about what we've done in Coventry over the past few years."
Professor Chris Turner, Chief Executive from British BIDs, said: "It was brilliant to have so many representatives from Business Improvement Districts across the country in one place for our Professional Development Day – with the added bonus of seeing firsthand some of the great work that has been undertaken in Coventry.
"Trish and her team have proved that BIDs can play an absolutely invaluable role in not only cultivating business communities but through collaboration with other organisations, from councils to cultural initiatives, can transform towns and cities despite the incredibly challenging times they have faced over the past few years and continue to face."