Coventry's Caribbean Culture Showcased in Latest 'In Paint We Trust' Installation
The latest mural created as part of Coventry's In Paint We Trust initiative has been revealed – showcasing the city's Caribbean culture.
Dubbed 'Community Love', the mural adorns the wall of Coventry's Caribbean Association's community centre on Spon Street and is a collaboration with famed artist Carleen DeSozer.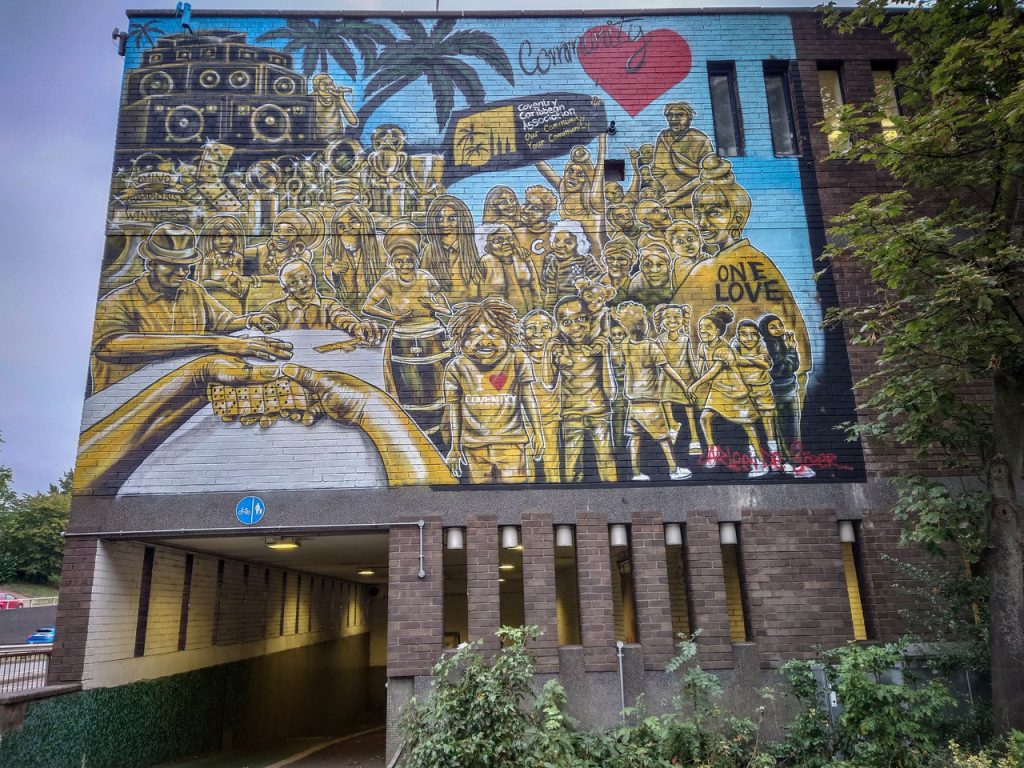 The community centre, which has hosted thousands of people in community events, celebrations and tournaments since opening in 1983, has recently undergone a transformation, and its new mural showcases its history and the role of the Caribbean community in Coventry.
Carleen DeSozer, who was born in Birmingham and now lives in London, is known for her Afrocentric, Afrofuturistic and often golden paintings that adorn buildings across London, which all attracted Street Art Strategy to commission her for this collaboration.
She spent time at the centre listening to people's stories and its history. As a result, 'Community Love' depicts different aspects of community life at the centre including their successful domino team and their many trophies, carnival vibes, the music and people of all ages.
Carleen is passionate about giving other female artists opportunities. A founding member of the WOM Collective, a female street art collective, she has been one of the driving forces to bring female street artists together, giving them opportunities to experiment, network and learn from each other.
As part of 'In Paint We Trust', produced by Street Art Strategy with support from Coventry Business Improvement District and Coventry City of Culture Trust, a range of murals created across the city by local, national and international artists inspired by local history and culture and designed to spark conversation. Last month saw the unveiling of the city's largest mural, 'Tower of Tales', representing the city's past, present and future, created by internationally-acclaimed Manchester based duo Nomad Clan at New Union Street car park.
Carleen DeSozer said: "I think Street Art Strategy have done a great job pairing the right artist to the right building, in this case it has been an absolute pleasure for me to be paired with the Coventry Caribbean Association to produce a mural dedicated to the West Indian community.
"After visiting and having a conversation with Colin about the centre and the attendees we agreed that the mural should feature heavy on characters young and older from the community. I was fascinated by the amount of trophies the centre has for winning dominoes. I've never seen anything like it, for that reason domino players and the cabinet of trophies had to be featured.
"I hope this mural makes people smile when they see it. I definitely felt the love from the community whilst painting this mural 'Community Love'."
Colin Bell, director of Coventry Caribbean Association, said: "This amazing work gives us a focal point in the city centre, it is something that people will recognise. We have been here for years, and this supports the work that we have been doing. It is a landmark, one that will bring us all together. We will be the hub of the Caribbean community.
"This year has been one of growth for us, and this is part of our journey. We look forward to the coming year, continuing to work with our partners to get the acknowledgement that we deserve. This is one of the steps in that process. We love it, thank you!"
Adrian Woolford, Assistant BID Manager at Coventry BID, said: "We're thrilled to see the latest addition to In Paint We Trust with this amazing mural from Carleen DeSozer, which is yet another vibrant addition to the city that is not only great to look at, but tells a story of its own.
"We're delighted to be the delivery partners for In Paint We Trust, working with Street Art Strategy and City of Culture to create lasting art across the city centre."
Jay Holder, Producer at Street Art Strategy, said: "It's been an absolute pleasure to work with Carleen and Colin to bring these stories to life. The mural really captures the essence of our heritage and history of the Caribbean community in Coventry and brings a positive happy vibe to what was a bland wall at the end of Spon Street."
Cara Pickering, Visual Arts Programme Producer at Coventry City of Culture Trust, said: "The Caribbean centre has been a staple in the community for decades, from Saturday school learning for children, to wedding receptions, late night dancing, workshops and domino games. These stories are reflected in the piece which has been created with the team and the artist. We saw Medieval Spon Street come to life with sounds of the Islands for the Caribbean Reggae Fever Parade and now this artwork adds another layer. This is the spirit of In Paint We Trust. Colour & Community Love."
Article courtesy of Ellen Manning Pr and Communications